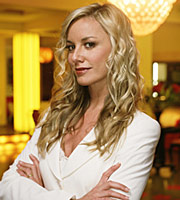 General Manager of Hotel Babylon, Rebecca is in her mid-thirties and dresses immaculately, with particular loves for Prada and Jimmy Choo.
She has wanted to run a five-star hotel since walking past one for the first time on a shopping trip to London as a child. All her life has been spent on this career path and she's ambitious to the degree that she can't really focus on anything else. Least of all the eventual collapse of her marriage.
Rebecca's only concern is her hotel and she will always, always put the guest first... well, as long as profit margins are secure!
She was portrayed by Tamzin Outhwaite.
Biography
Edit
Rebecca Mitchell is played by Tamzin Outhwaite. She was arguably the main character, appearing first on cast introduction in the opening credits. However, at the end of series 2 she is written off and hasn't appeared in the series since. She was the General Manager of Hotel Babylon until she resigned, she was generally quite strict with staff but seemed to have good relationship with them.
Season One
Edit
During the first season Rebecca has a troubled marriage and often sleeps in the hotel when she is left at home alone. Rebecca's marriage does recover; however, she does divorce her husband eventually and in the second series finds out her now ex-husband is in a romantic relationship with a friend of hers.