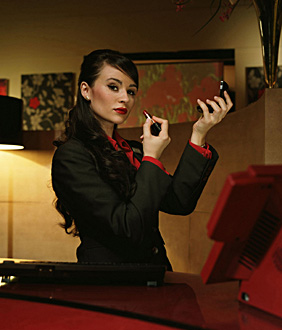 Anna Edwards (née Thornton Wilton) [Full name Anna Thornton Hyphen Wilton Edwards] was the head receptionist at Hotel Babylon London until she had a baby and left with her husband, Charlie Edwards. Her real name is Anna Thornton, but she has changed it to Anna Thornton Wilton.
Little is known about Anna before she started working at Hotel Babylon, but she has worked in The Chesterton until she resigned and started searching for a new job. She has applied for the Deputy Manager position at Hotel Babylon, doing 2 interviews. However, she was beaten to this position by Charlie Edwards, who she slept with while working at the Chesterton.

Name Badges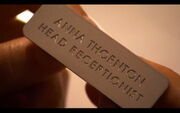 Anna has changed three name badges while working at Hotel Babylon, in episode 2, season 1.
When she got her first name badge, it said "Anna Thornton, Head Receptionist". Anna called the person charged in printing the name badges to complain. She said that she doesn't want to be known as Anna Thornton, or Anna Wilton, that her name is Anna Thornton Hyphen Wilton. Her second badged arrived, and said "Anna Thornton Hypen Wilton, Head Receptionist". Anna didn't want a triple-barreled name, and made another complaint. She finally got the name badge that said "Anna Thornton Wilton, Head Receptionist".